Life in a war zone – Iraq
时间:2019-11-16 责任编辑:羊涸 来源:合乐888手机网页版 点击:160 次
Tathamon Abdel Mohsen, 39, sits on a chair beside a grey concrete wall alongside her brother-in-law and aunt. She wears a thin yellow headscarf, her cousin is dressed in a white and their 75-year-old aunt is wearing a black that encases her face in what seems to be permanent grief. Her two young girls, Anis, 14, and Aseel, 10, play in summer frocks on the floor, half focusing on a large television. Tom & Jerry cartoons are playing on one side of the split screen and animal documentaries are showing on the other.
As we begin to chat with the family, a lion is throttling a wildebeest to the right while, closer to the girls, Jerry is being accosted by a mallet-wielding Tom. The children don't know where to look, and nor do we. But nevertheless, it seems an appropriate point to start talking about life in . For this family and many others, the last 11 years since the US-led invasion have also meant adapting to jungle rules and avoiding the man with the big stick.
And, as a country ravaged by three wars in 30 years, a decade of sanctions and seemingly never-ending upheaval enters yet another crisis, another well-learned lesson is being reaffirmed. "We will never know certainty again," says Tathamon, whose name translates to Solidarity. "Life for us is constantly moving, constantly leaving things behind."
The house the family shares with relatives – eight in total – is a simple, narrow, two-storey structure in the eastern Baghdad suburb of Balidyat. They have rented here for the past eight years; they feel that while renting a home like this they will never be settled. It is devoid of the clutter of sentiment of a family home: there are no family portraits in the living room and the only shelves downstairs are in a frugal kitchen, where a Donald Duck salt shaker sits amid plastic bags of thyme, pepper and other spices.
Upstairs, two sisters, the girls' great aunts, hide in one of three bedrooms, too shy to meet visitors. A spare room on the lower level is unfurnished, with three frayed, red carpets covering the cement. The pendulum of an old clock swings in melancholy rhythm.
"We have a very basic life; eating, drinking and sleeping," says Tathamon, who is an adviser at Iraq's Cultural Ministry. "We are going to work just to prove that we are living."
By Iraqi standards, the family is comfortably middle class. They have enduring connections to old Baghdad life, with long-term links to the Communist party and more than a decade of experience each in the Iraqi civil service.
For Tathamon, her husband and children, things would be better if they could return to the life they knew in the western Baghdad suburb of Ghazaliyeh. By 2006, that area had become lethal for a family that was culturally Shia. Ghazaliyeh was then an epicentre of clashes between Sunni and Shia militias. Now, as Iraq descends towards an abyss once more, it is again a danger zone, making a homecoming unlikely any time soon.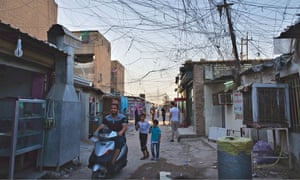 Militiamen roam their neighbourhood in white four-wheel drives with black tinted windows. Here, as everywhere else in the country, generators roar throughout the day and night providing electricity. Refuse piles up outside wrought-iron gates, and sand and dust cake low-set homes and parched gardens. Balidyat was once a coveted cosmopolitan neighbourhood where sect mattered little. Now it seems to blend into the rest of the capital, a pot-holed paradise lost.
Tathamon's husband, Amar, 43, is at work when we meet. After several years without a job following the ousting of Saddam Hussein, he has been working full-time at the Ministry of Science and Technology. But the dreams they both had when the dictator was still in power, of buying land and building houses for their family, have been put on hold.
"We have relocated four times since my marriage," says Tathamon. "It broke the chain of my social life." She feels isolated because her whole social world depends on her neighbourhood – Arab societies are often organised among clans. When those ties are lost, new ones can be difficult to forge.
"Now it's trouble again and I need to start making some changes." Is she considering leaving? She nods. "I have saved more money. I think it's best to migrate." She doesn't know where or how.
Turmoil and uncertainty are constant themes in our conversation. Removing the old world order imposed by Saddam and replacing it with a system that valued individual liberties above all else seems to have changed the fabric of society in Iraq – especially for a family that has long held communist beliefs, including the sharing of wealth and a strong sense of community.
The family says Iraqis are now quick to judge people. Drinking alcohol did not used to be a social taboo, nor did being avowedly secular. But somehow society has started to shrink, they say. People's sense of identity has narrowed, as has their acceptance of other ways of life. Everyone who walks into a room is traditionally acknowledged in Iraq – and that hasn't changed. But the initial warmth now melts quickly away, the family says. Suspicion is never far away.
"I don't feel the empathy that I felt for people in 2002," says Abu Osama, Tathamon's brother-in-law. "We started to feel isolated. The bridge of communication is cut now. Before 2002 we used to sit in the garden and have a conversation. Now there is no communication between men and women. If there is a gathering, the women sit separately. Everyone became more religious, but it was not religion in the way we understood it. The divisions started to collapse the society.
"The conversations I have with my neighbours are different. Everyone became judgmental. I drink, and in the past if people knew I drank, they would still deal with me respectfully. Religious groups are imposing themselves everywhere." Abu Osama knows the looks and feels the estrangement. He says they don't bother him, but he clearly wishes things were different.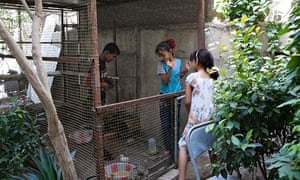 The two girls run outside to stare at a cage full of Iraqi guinea hens that are kept as pets by another man in the house, Salam. He sits with us but doesn't say much, but, like his 75-year-old mother, Umm Salam, his eyes speak of loss. Last year a mortar struck their house north of Baghdad, killing Salam's brother and his son Asmaa, and maiming his sister Amjad. She sits alongside us now, a glass eye fitted where her left eye used to be and her shattered nose reconstructed by surgeons in Iran.
"Depression turns you to God," she says meekly when asked why she wears an abbaya.
Umm Salam quickly adds: "Religion didn't corrupt us, we corrupted the religion. Society now is very depressing. The government are thieves. Everyone is filling their pockets." The corruption of Iraqi officials is a common complaint.
For so long the family was not afraid to show that they lived secular lives. Now some of the women in the house (apart from Tathamon) wear black chador. It's unusual for secular Communist women to be seen like this. They have conformed to Iraq's new normality.
"In the 60s, we had a lot of sympathy for the Communist party," says Umm Salam, her tired eyes briefly flickering to life. "I used to give shelter to their members. One of my friends fled to India and I took her family in. That was a time I enjoyed."
Tathamon has tried to keep the cause alive, standing in national elections earlier this year for a political alliance with links to the Communist party. She didn't get enough votes for a seat in parliament. "I am not sure I can point to a positive result from all the changes we have seen," she says.
Like all displaced Iraqi families, Tathamon and her husband recall a moment when their life changed for ever. "It was in 2006. We were forced to leave our home," she says. "They left an envelope with a bullet outside our door. Soon after, our neighbour was killed. When the police can't protect you, when your neighbours can't protect you, what is the point? Whether you were Sunni or Shia, whether you went to the mosque, or the Husseineyah, you were not safe."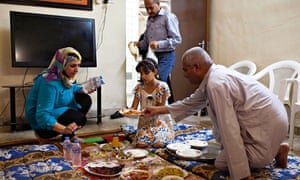 Now, in the midsummer of 2014, residents can move around Baghdad. It is no longer a city of and no-go zones. But sudden death still lurks. While the world has looked away in the past three years, Sunni insurgents have not let up in their efforts to change what 2003 created – a new power base for the country's long disenfranchised majority Shia sect.
On some days in Baghdad the explosions seem to never stop. There have been nine on the roads around Balidyat in the past three months, mostly car bombs targeting security officials or Shia mosques. "We don't think about them that much," says Tathamon. She and many other Baghdadis have become desensitised by the random violence. "I do think about it when the girls are going to school," she adds. "But what can we do?"
Just up the road from their home, a corner store sells confectionery. Next door a bakery sells local Iraqi bread, known as samoon. It is 47 degrees most days in Baghdad at this point in summer. Electricity can be patchy and sometimes cuts out overnight for about five hours. Few people move on the streets of Balidyat, and the kitchen inside Tathamon's house is quieter than normal – it is Ramadan, when observant Muslims don't eat or drink between dawn and dusk. Air conditioners mercifully cool the house, and water, unlike power, rarely fails.
Yesterday, the day before Ramadan began, Tathamon, Umm Salam and the shy sisters walked down the baking hot road to buy carp from a vendor who was selling them from the back of his truck by the side of the road. The fish are made into a delicacy known as mazgouf, and served for lunch with beans and stew. When they hear it is one of our team's birthday, Tathamon's daughter, Aseel, brings out a plate of chocolate biscuits and a single candle, which quickly flames out. "Just like Iraq," Tathamon says. Everyone in the room laughs for the first time that day.